Battery Safety. Unfortunately this topic is something that isn't talked about nearly enough. Working in a shop you grow to almost expect a certain amount of strange things to happen but when it comes to battery safety you just can't let it go.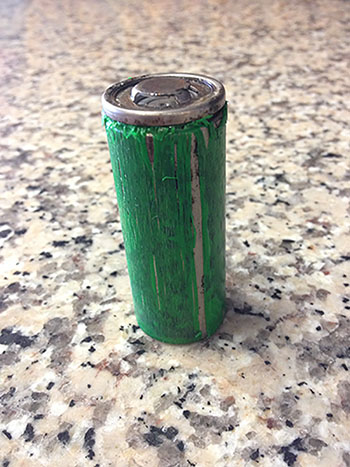 This battery came into the shop today and has us scratching our heads as to why this was still in use.

The answer is that people simply don't know what they have in their hands.

Here are just a few basic rules of thumb:

·

NEVER store battery cells with other metal objects (coins, keys, etc.) Failure to do so may cause a short which can cause damage to your person or property. We suggest always storing batteries in a battery box.

·

If used improperly, cells can explode, vent, or burst into flame. Proper instillation is critical. DO NOT reverse polarity or stack unless the manufacturer states otherwise.

·

NEVER charge batteries unattended and always use chargers intended specifically for your batteries.

·

NEVER disassemble, puncture, cut, crush, short-circuit, incinerate, or expose to water, fire, or high temperatures. If you see the battery's wrapper is damaged in any way dispose of it properly.

·

ALWAYS use your battery within its manufacturer's specifications. Make sure your coils are built at a high enough resistance for the amp rating of the battery.
If you are ever in doubt you can always contact us or any other knowledgeable vapor shop and ask. Knowing what type of battery you have and how to use it is very important. But just as important is practicing good battery safety so we don't hear about you on the news. Not only is it embarrassing for you but it puts another notch on the belt of the people that are against our industry. We will write more detailed articles on this topic for sure.
Sincerely,
The Tampa Vapor Team